BenQ Mobile has jumped anto the waggon and is due to start shipping their very own Bluetooth enabled mobile phone speaker add-on. According to BenQ, the stereo system is portable, and can run off either a battery-pack or an AC adaptor. They also said that the 'BenQ-Siemens Mobile Sound Set Bluetooth IMS-100' (What a mouthful!) will not be the most powerful set of speakers out there, but went on to say that there was a microphone onboard and there's a line-in port to connect gadgets that aren't bluetooth enabled. Seems pretty good, but not exactly good enough to blow us away. But of course, without trying it, we can't truly rate it.
I'm sorry for the lack of news updates today, I've been very busy testing all of the sites new layouts before I go away tomorrow, making sure that they work in different browsers etc. I'm going camping in Wales. I won't be away for ages, just till Thursday. If you're lucky, I'll attempt to e-mail blogs from my phone to Blogger. I've not tried it yet, but I think it'll work. You'll just have to wait and see. Any comments on the new site layout should be attached to this post. Just so you know, I'm also visiting Lanzarote next week for ten days. More details will be given nearer the time. Thanks!
Delta
UPDATE
: July 31st 2006 - 7:49 AM. I'm about to set off! See you guys around!
UPDATE:
August 2nd 2006 - 4:44 PM. I'm back! And I'm shocked! My AdSense earnings have risen dramatically while I've been away! I've had few hits, but far more clicks! You guys must know you're great already. But I'll say it anyway.
Advertise on our site by signing up
here
. Benefits of advertising with us include getting targeted traffic directed to your site using Google AdWords, and an icreased number of hits to your website each and every day. Specify how much you're willing to pay per advert click, and our Google correspondents will find the right type of advert for you. You can even set yourself a per-day or per-week budget, meaning that after a certain amount of clicks, your ads will stop appearing for the remainder of that day so you don't exceed your budget. It couldn't be simpler with adword.
Give it a try!
Thanks,
Delta
Labels: Site News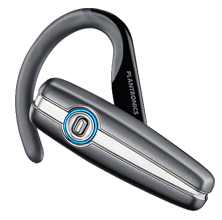 Plantronics announced a few nifty little bluetooth headsets a few days back, and here's all that we know about them. Firstly, the Explorer 330. Pitched at mid-market customers, and rumoured to cost between £49 - £60, the 330 sports an impress battery life. With 8 hours talk-time and over 250 hours stand-by time, the model offers style and value for money.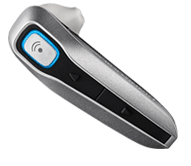 At the high end of the market, weighing in at 9 grams, the Discovery 665 has a built-in DSP chip to bring the user "crystal clear sound quality" claimed Plantronics in a statement. The battery built in can last for 3 and a half hours talk time and 80 hours stand-by time.

Overall, a good lineup of headsets, both scheduled for release sometime in Autumn.
Adsense adverts are now showing up all over the site. Hopefully they're not causing you too much trouble. I'm happy with the chage ofver and think that the ads blend in rather well. They don't scream to be looked at either like lots of them. But remember, a click a day keep 404s away. Oh... And it helps this site to review more interesting and relevant products.
And if you're a blogger or own a website of your own, sign up now by clicking the link in the right hand side toolbar!
Labels: Site News
Hello! It's me again! Anyway. As you probably know, a few days back, NABAZTAG wrote a review about my blog, and mentioned me as a 'brilliant, young journalist'. Unfortunately, it was in French. But don't worry! They've posted an English version just for you guys! Check it out
here
.
Or alternatively, you can read it below.
Summertime is here and Nabaztag is far from having the opportunity to slack off cause there is a buzzing sound in his ears. It's no surprise, since he was born, that there is he's been mentioned nearly 1,000,000 times in English alone! Apparently Nabaztag appeals to all kinds of people, and he is very proud to interest the curious and inventive young generation. We had already shown, here, a young publicists video of her favourite wi-fi pet, this time, we wanted to congratulate Delta's work, a very young and brilliant journalist (check out his resume) from England, passionated with emerging technologies, whom cumulates many talents. And on his blog he has
celebrated
and
recelebrated
our
celebrated
Rabbit, which took the opportunity to whisper to Klopick's ears a few informations' modifications and news about future services to which Delta reacted by upgrading Nabaztag's rating to four stars ! Nabaztag loves that and mostly to awake young adults imagination.
Sorry for all of the bad grammer in that review above, but for once, it wasn't my fault! I get to blame Yasmine, the editor at NABAZTAG for that one, or at least whoever else wrote that article! I'm enjoing my first ever experience of blogger and am going to keep updating the site. I'm on my summer holidays at the moment and have more time than usual to blog, than I would otherwise.
Labels: Site News
Wow! Can you imagine being able to send a text to your computer and it automaticaly power off? Well that is exactly what has happened to alot of owners of the Dell GX520 series. Apparently, if you leave a mobile phone near the base unit, then as soon as your phone recieves a text, the whole computer powers off. Dell's explanation to this was, "Communication devices do sometimes cause interference with other communication devices. The level of interference created may depend in part on the model and condition of the phone. Dell systems are designed to operate in line with industry standards for power and electro-magnetic shielding. We recommend to customers who are experiencing interference to avoid using mobile phones within one foot of the system. We encourage customers to contact Dell directly if they have other concerns." There have also been rumours about the same bug affecting the latest Dimension Series. If anyone else has had trouble like this, just leave a comment and we'll get back to you as soon as possible.
We've been saying that we'll get it since we started up. And it's just not happened. But now, an account has been set up. All revenues generated by AdSense Impressions and clicks will go into buying new products to review. Remember, we aren't asking you to click, but each and every one we receive goes into improving the site and bringing you more frequent, more interesting reviews.
We care about what you think about the site, and are going to make all of the AdSense adverts unobtrusive, and well suited to the colour scheme so that they aren't going to burn holes in your eyes every time you visit the site.
Thanks for your co-operation and patience,
Delta
UPDATE: Google is reviewing the blog to make sure that everything is in order. Please keep checking for further updates. If you are unhappy with any advert placements, please just leave a comment and we'll get back to you as soon as possible.
UPDATE:
Google has approved my application. All clicks that I receive will now donate to the UKTToday Product Review fund.
Labels: Site News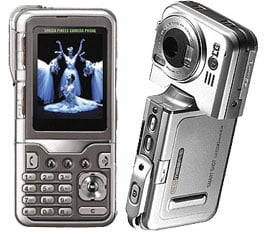 LG's KG920, the 5 megapixel phenomenon will arrive in the UK next month according to the carphone warehouse. No price has yet been announced for the handset. Announced in February, the KG920 weighs 138 grams, is bluetooth equipped, triband capable and has excellent GSM/GPRS connectivity. To tie the ribbon, LG is apparently bundling a 256MB memory card with the phone. We're expecting the phone to cost around £350 - £450, but we can't see any reason why you can't just buy a phone and a camera separately for a lot less cash.
I've added full RSS support to the site and added quick subscription buttons on the right hand side. I've also completed the Atom feed and that's up and running. If anyone has any questions, just leave a comment and I'll get back to you as soon as possible. Also, I'd like to thank Seshi for all the behind-the-scenes Grpahics work she's done for this site. None of it is up yet, but it's sitting there waiting to be used.
Labels: Site News
Well, if this weeks BBC weather reports are anything to go by, we'll eat our computers. According to the BBC website, the sun never rose in Bristol on Wednesday, and Leeds enjoyed a pleasant, if not slightly over powering 188 celcius. Meanwhile Belfast will be enjoying tornadoes, tropical storms and 'very good' visibility. And look! It's snowing In Birmingham at 24 Celcius. Quite a few records here! Take a look below...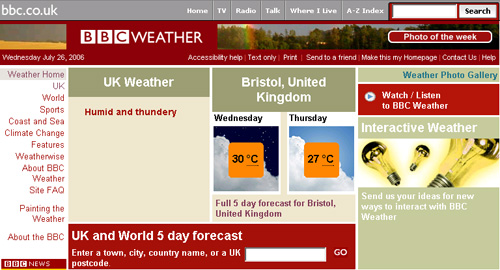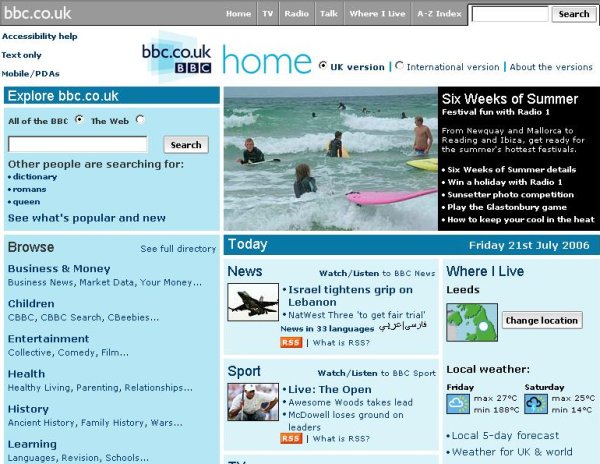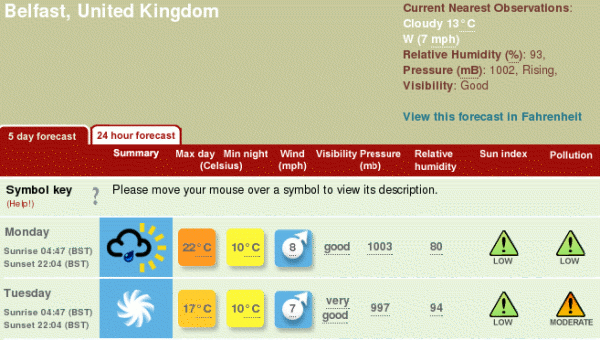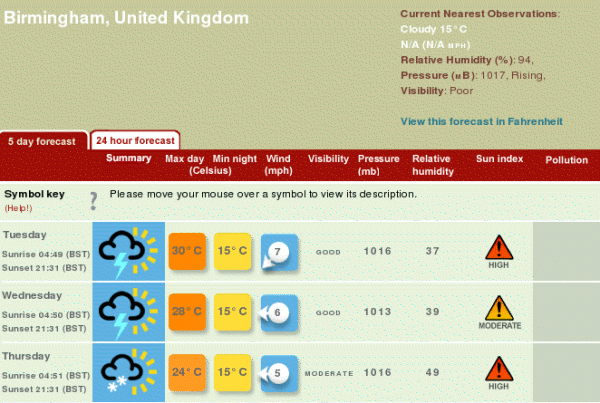 Kazaa has agreed to pay £53 million in damages to the record industry, and perhaps most importantly, has bocme legal. The descision follows a long legal battle in Australia where a court was told 'Kazaa encourages users to breach copyright'. This is good news world wide for everyone, other than the P2P swappers themselves.
Five thousand readers of the T3 magazine all voted for their favourite console, and the Xbox 360 was best of the bunch, beating the Sony PSP and Nintendo DS to the top spot. Not big news, but we think it does it justice.
Labels: Gaming
Wow! It's official! Well... Not really, but it's hilarious. Check out one sites views on how Halo will end
here
(You need to have your sound on). This is rich. Seriously! Bungie have commented on this after it was pointed out, saying 'If Halo 3 really does end like this, it will be purely conincidental!'
Labels: Gaming
We're on the NABAZTAG website. Click
here
to see for yourself! We can't quite understand what they've written, but running it through a translation program yielded the following:
Eh yes Nabaztag is again to the very page when it is at the beach. Since his birth more of a million sites quoted it! The Nabaztag that you see here is called Klopik, it seems perfectly on vacation by the sea of the Caraottes and you can send to him postal cards. This is the summer period, the canicule to Paris, and one would not know to reproach for him to have wanted to put itself to the blue one! After all, nothing prevent the beach where it tans to be connected in Wifi, in the measure where the network pervasif is well able to spread its waves to the edge of the wave, since it already approaches Brittany coasts. But, NabaStar to the end of the ears, Nabaztag does to talk about him, even during the vacation, not still in the section People, but in the section high-tech. Thus, the compilation of Hightechavenue chose to put in epigraph the exploits of our rabbit topless! During those times, while awaiting the winter to be able at last rechausser their skiings, the bosses of Skipass.com (specialized site in the slips in mountain) disposeed on their office a curious snow rabbit that does not melt, despite the canicule, but... that does to melt all a curious youth and talentueuse. We had presented you a mischievous publicist in grass entichée of an insolent Nabaztag. Here now Delta, future journalist, that, top of its twelve springs, famous and recélèbre it famous rabbit a little mutt, that not some complains. One claims even that to the reading of the first Delta item, a Nabaztag blew for him that it had forgotten to enunciate someone of its possibilities. Suddenly, Delta, decided of him to grant a star of more! Nabastar loves that!
We're not sure what to make of it, but it refers to us nevertheless. I hope it translated right, and there wasn't anything in there asking us to have added a copyright note for the image, but anyway. Who's complaining?
Labels: Site News
July's UKTToday Editor's Top Five has been unveiled:
1. Test Drive Unlimited ( Xbox 360 ) ( PEGI - 7+ )
2. Elder Scrolls IV: Oblivion Collectors Edition ( Xbox 360 ) ( BBFC - 15 )
3. Pirates Of The Caribbean ( PSP ) ( PEGI - 12+ )
4. Perfect Dark Zero Collectors Edition ( Xbox 360 ) ( BBFC - 15 )
5. Halo Triple Pack - Halo, Halo 2 and Halo 2MMP ( Xbox ) ( BBFC - 12 )
Labels: Gaming
We're not sure what to make of these, but they look brilliant, and for £30 we'll be getting our hands on one, or two, or maybe three of these for the next time we sit down for a staff meeting, but unfortunately we've not been able to try these yet. Our friends over at The Register have though. They tell us that these slick little devices have caused mayhem all over the country, bringing whole departments to standstills.
Warning: However laughable this may seem at the moment, it won't be long between this turns into a full scale war between Windows, Apple and Linux.
Update: Inevitably, Linux guerrillas are already bombarding Windows and Apple users with these portable Weapons Of Mass Destruction.
Click here to read the full review of
The Register
's review.
Hey? Who needs viruses when you can pelt your colleagues with foam missiles?
Labels: Linux
Nintendo have admitted that their new console is cracking. And that it shouldn't. This isn't the reassuring statement that DS Lite users had hoped for, but at least Nintendo are 'reviewing the issue'. But good news, not long after, Nintendo issued another statement saying that all owners of cracked consoles should contact their Local Nintendo Customer Service Division. I think mine is in Japan.
Anyhow, in other DS related news, the console has sold 21million units since it's release in November 2004. This includes both the Lite, and the original versions.
Labels: Gaming
Wii Release Date Confusion
New, but unconfirmed reprots have suggested that contrary to Nintendo playing down this date over a month ago, that the release date for the Nintendo Wii could be the 15th of October. A separate source also commented that the price of the console would be around £170, but Nintendo said that this price would be 'highly unlikely' and refused to comment whatsoever about the release date (surprise, surprise).
Labels: Gaming
After being contacted by a staff worker at NABAZTAG, and being told some of the extent of the built-in Open Application Programming Interface that they use, we have decided to upgrade the NABAZTAG's rating to 4 stars. We feel this is nesscesary due to the upcoming features that they have promised us, these include London traffic reports and full RSS support, fluent English, French and Spanish aswell. This wasn't all, but we'll let you discover the rest for yourself! It should be made very obvious when it comes out.Now that's £80 well spent, assuming the promised features appear.
The Monitor
The BenQ 24in FP241W HDMI Monitor is what BenQ claims the World's first PC Monitor with an HDMI port. The screen's native resolution being 1920 x 1200 operating in 24-bit colour, a 1000:1 contrast ratio and a brightness of 500cdpm looks very impress coupled with the two built in USB ports. We expect the FP241W monitor to ship in mid September costing around £680. This is over £150 cheaper than our previous favourite 24" monitor, the Samsung SyncMaster 244T.
HDMI Graphics Card
The TUL Power-Color branded ATI Radeon X1600 Pro HDMI has a single 500Mhz core, 256MB of GDDR3 running at 450Mhz (950Mhz effective), 12 pixel shader pipe-lines and five vertex-shader engines. Brilliant picture, though not as good as others (X1900 series for example). It does the job alright, but we're waiting till we see products with HDMI ports that can rival the Radeon X1900XTX. Till then, this'll have to do.
HD Photo Playback Connector
The Panasonic DMW-SDP1 can take any SDHC, SD or MMC and display the contents at 1080i. Great your thinking, but it's not till you try it that you see how great this really is. It can also print direct to your printer using the PictBridge system. The DMW-SDP1 goes on sale in Japan on the 22nd September. The price is currently unkown. But we'd be willing to spend anywhere between £80 - £150 on this little gadget.

Transporter. Supposedly the world's first network music player for lovers of pure music. The system costs £1080 ($2000) and offers 'better audio output than a CD player' say it's maker.
I was sceptical at first, but apparently it can easily stream not so good quality MP3, AAC and WMA standards, which are all simply compressed versions of original songs. But what it claims, is that it can stream WAV and FLAC files just as easily. Silm Devices, the U.S. manufacture says that they believe it will sell very well despite the price because "Music lovers everywhere are investing alot of money to rip their files at more than simple 128kbps MP3. Many people do not realise what a compromise they are making when ripping CDs into formats such as MP3." I think that this could be the way forward personally, but not if it costs as much as it does. If it weren't for the price, we'd buy it.
In the Premium bundle of the Xbox 360, you get the System, a pre-installed 20GB HDD, a wireless controller, an Xbox 360 sticker, an Ethernet cable for attaching the X360 to your home network, an HD-AV cable, which is optimized for both HD use and regular TV use, progressive scan DVD playback, the abiltity to stream music from your PSP and IPod through your TV and the chance to connect your system to your Media Center PC.
But of course, you already knew that. I'm here to tell you what the reviews don't say. Unlinke the original Xbox, the X360 can't be hacked to run Linux. But all that should change with any luck within the next year if the hackers keep at it. So in other words you have a IBM 3.2GHZ Triple Core system, 512MB or RAM, with a customized ATI graphics card, running a full version of Linux. In other words, a high end, operating system wielding computer for just £275 from Amazon.co.uk with free delivery. There's no doubt about it that once you've played an Xbox 360, you can't go back to an old Xbox, let alone a PS2! The system is phenomenal, the gameplay is mindblowing and when you first get it, you just sit their, staring in wonder at it's beautiful design. Seriously. It looks as good as it sounds. It plays better than it sounds. The menus are easy to navigate, and for once, Microsoft's Error messages are helpful, and don't just tell you that there's a fatal error with your system.
I'll be reviewing some of the games in the next few updates, so look out!
In the U.S. Dell is selling the core system for just under £190 our money ($350) yet in the U.K. it costs £210. Unfair global marketing once again.
The Relisys RLT17AP15 17" LCD TV doesn't look all that amazing at first, but once you look at the array of ports on the back, the amazingly sharp quiality of the images it shows, you'll learn to love it. Ideal for a kids bedroom which isn't huge. I have this TV in my bedroom at the moment, and could, if I wanted to, have plugged my laptop into the WXGA socket into the back and started using it. The RLT17AP15 has no HDMI port, meaning it's not HD Ready, but can still play the Xbox 360 in High Definition at up to 1080i. Pretty impressive for £250. At least it was until word got out how great this TV was. Dabs ran out of stock and Amazon raised their price £76. Whether the new price tag is worth the features, I'll leave it up to you to decide.
Labels: Gaming
A weird little rabbit, that could quite happily sit their on your desktop doing absolutely nothing. But that would be a waste of it's superb built in Wi-Fi receiver. Once set up, you can log onto to the NABAZTAG website and do all kinds of things, from music sharing, to it's very own messaging system, but perhaps best, and most useless of all is the Parisian traffic report. Being a French rabbit, it sometimes has trouble speaking English and quite often spits out French at you when you least expect it. We're not quite sure why anyone would really spend £80 on this from Firebox.com, when you could do so much else with that money, but nevertheless, an interesting piece of kit.
Hi, this is Delta, and I'm our reporter here at UK Tech Today. We'll be looking at all aspects of technology, the good and the bad, the new and the old, etc. But without further ado, let me introduce you to the rest of the team.
Delta (Me) - Freelance Technology Journalist
Seshi - Graphics Designer
We're currently in the process of signing on more members for the team, as it's very small at the moment. We confident that we can bring you all the Tech News you want, when it happens.