NEWSFLASH! ALIEN'S EXISTENCE HAS BEEN OFFICIALY CONFIRMED!

US Immigration and Customs Enforcement (ICE), this week arrested 15 aliens at a facility were they were alledgedly painting military aircraft when the net closed in on them, according to an official ICE report anyway! 'ICE arrests 15 aliens in Roswell working for US military contractor'. Read the article via the link given. The possible aliens in question were 'determined to be illegally residing and working in the United States and will be sent back to their homelands and place of origin'. US readers who suspect that they may be working alongside an alien can report any "suspicious activity by calling ICE's toll-free hotline at: 1-866-347-2423'. I saw this on The Register and found it so funny, I thought I ought to share it.
Update: 55 more aliens have been captured claim the ICE in this article. '55 aliens working for state janitorial contractor arrested by ICE. Arrests part of ICE's ongoing mission to secure nation's critical infrastructure sites.'

The UK goverment thought that they'd try to be as cool as us geeks and posted videos on popular internet site YouTube. This is what ArsTechnica had to say about it:
'There comes a moment in the life of every sitcom where a desperately uncool father tries to act hip around his children's friends. The results, disastrous as they always are, should have given the UK government pause as it contemplated its own attempt at hipness—putting some videos on YouTube. The clips were uploaded by the Central Office of Information under the username "publicservice" and dealt with such YouTube-appropriate topics as "transformational government" and "sharing the leadership challenge." While a commendable attempt to get the word out about government plans to "save money by consolidating service departments," the videos didn't impress the Guardian's Charles Arthur. "Bluntly? Six minutes is far too long," he wrote last week. "The videos aren't paced for the youth market that YouTube really hits. If the Cabinet Office does want to see how its videos ought to look, it should offer the raw footage for video mashup artists to work with, and laugh when they mock it, which they will."
Actually, people are already mocking the COI, which was was forced to pull the videos soon after posting them because it turned out not to own the rights for online distribution of the clips.'
I'm back. I found that funny though for some reason. And people think the US government messes stuff up! But turns out the UK is just as bad. I think I'll move to Canada.
After our previous reports on Sony's ever increasing problems (
here
and
here
), we find out that they no longer have enough Blu-Ray lasers to put into their PS3s and their upcoming Blu-Ray readers. Uncertainty alone will probably win HD-DVD the war in the next format of discs, but their appealing price as well, will only push up reasons to get it instead of Blu-Ray. With Xbox 360's selling like mad, people will be hard-pushed to find any reason why to go for a PS3 at the moment, with drastically short supplies of the console already predicted by leading wall street analysts.
Labels: Gaming
Toshiba's new USB flash drives are all U3 compatible, letting you run applications directly from them. This would
mean an end to installing Anti-Virus systems from a USB Pen Drive as quickly as you could while racing against a virus. I've had this problem before while trying to cleanse a PC of the Blaster worm a couple of years back. The flash drive which really cought my eye, was a limited edition U3 drive. The price of the drive is currently unkown, but it comes in 512MB, 1GB, 2GB and 4GB versions aswell. Toshiba is new to the U3 market, and it will be interesting to see how their products fare against the likes of SanDisk. U3 devices give you the option of running programs from the device itself, but only when connected to a Windows 2k or XP machine. 'This makes it possible to carry your own settings for email, internet and other software with you on the go. U3 devices automatically delete any data they have created PC in quetsion when they are removed using Microsoft's 'Safe Removal of USB Hardware' program. This makes web surfing at an internet café ideal, because your drive will delete your preferences and passwords for you. A 16GB flash drive sounds unbelievable, but many drives even larger than this are already in existence. A 64GB drive was displayed in April this year by Kangaru in America, costing £1,600.
Dixon's Freetalk VoIP service has been axed just a year after launch. Vonage, Freetalk's rival will inherit all of Freetalk's members and will provide the new service. Simon Turner, speaking at Freetalk's launch last September said, 'This is the most significant development in the telephone market since the launch of the mobile phone and will transform the way we use phones. The days of old style fixed-line phone calls are numbered.' And he's right! But why then are Dixons ditching it?
August's Globa-Tech Today Editor's Top Five has been unveiled:
1. Spore ( PC )
2. World Of Warcraft ( PC )
3. Elder Scrolls III: Morrowind ( PC )
4. Test Drive Unlimited ( Xbox 360 )
5. Age Of Empires III: The Warchief's Expansion Pack ( PC )
Woah! Loads of mail asking why Morrowind! Well, it's not got brilliant graphics, but it certainly still has the best gameplay out there!
Labels: Gaming
Research conducted in Europe, shows that most bloggers who do not write frequently updated blogs, do not display adverts. Seems fair to me, you don't deserve cash if you don't do anything. The research highlights that blogs and pundits who update several times daily tend to display adverts to support the author. This seems fair, as I know for one, that I put so much time in, I should get something back.
With this news, I'd like to announce that we're considering at GTT, whether or not we should partner with Amazon. If this does indeed happen, we won't let money sway our recomendations of products, but we will, if an item is available from Amazon.co.uk, add a link somewhere in the article which reviews it, linking to that item. Then if you buy that item, we'll recieve up to 10% of whatever the item cost. Just make sure you buy the item by clicking on our link, else we won't get credited with the money!
Thankyou for your continued support of the site,
Delta
Labels: Blogging
We hope not. That would ruin Cytek's brilliant gameplay, graphics, storylines, everything! But if EA get their way, they'll be seeing alot more of each other. In a German newspaper a few days back, there was a well-written report talking about how EA might try to buy, or at least partner with Crytek for creation of their upcoming game Crysis. If EA do indeed buy Crytek, it will be the second acquisition of a German games developer in a very short space of time. In the newspaper, Die Welt, the EA Executive Vice President and General Manager Of International Publishing said Cytek were a 'very, very interesting candidate for a possible acquisition'. The gaming world has every right to be worried, what with EA's recent spate of poor games.
And I thought you guys mgith like to know, this is Globa-Tech Today's 100th post! Keep visiting and we'll keep updating!
Labels: Gaming
Could Chumby be the next Nabaztag? Nabaztag means Armenian. Chumby means nothing. And that's why we love it! We're still fans of the rabbit, but we think the blob could do even better!
Chumby is a blob. You can squeeze it, throw it, mod it, upgrade it, listen to it, sing with it, curse at it, laugh at it and you can carry it with you around the world. So long as there is a Wi-Fi connection, Chomby can bring you up to speed with the latest news from your favourite sites. (Globa-Tech Today being your favourite, of course!) Chomby can play you podcasts, stream you MP3s from the Internet, anything you feel like really, and just like Nabaztag, it's constantly getting better! We think that they'd look rather cute together, but we don't know what to name their offspring. Nabumby? Anyway. That's not the point. But it would be rather interesting if they clashed or joined together. Both would make some good headlines. But as I said. Back to the point. Chumby makers said, 'What we decided to build was a really low-cost, wireless (Wi-Fi), Internet-connected device that will sit on your bedside table (or in your bathroom, or kitchen, or living room, or maybe even plug into your car somehow...) that could do a lot more than this old clock-radio (or your cell phone, if that's what you use to wake yourself up!)'
We're excited, and you should be too. Especially with the price being similar to Nabaztags own. $150 USD dollars at launch, possibly lower afterwards.
Even after Sony's costly recalls of batteries, laptops not affected by the recall are catching fire. Yesterday, in busy Japan, a businessman powered on his machine. Sat at his desk for a few minutes then started reading a file containing paperwork. Before he knew it, his laptop was on fire and smoke billowing out from beneath the keys and out the back fans. This is one of product containing Lithium-Ion batteries, not recalled. Many other complaints have been filed aswell due to overheating and catching fire. Sony is heading for deep water. Let's just hope that they take the batteries with them. It might cool them down.
If Sony doesn't get it's act together soon, it risks facing more fires and more fines.
LG today comfirmed Nvidia's mad plans to fit their GeForce 7900GT graphics chip with built-in HDCP anti-piracy technology. We've seen this before, but in the form of anti-piracy software being hidden on discs. It's never gone down well, and almost always causes problems with games, some music files and software. ALot of Anti-spyware manufacturers flag these technologies as spyware, and who can blame them? The software does spy on you, stopping you doing what you want, and almost always reports back to the original company who designed it. This is in my opinion, the next step into the invasion of privacy. Built in on hardware? That's just unfair. Lucky I wouldn't plan to buy one anyway. The ATI Radeon X1950XTX is just too good. HDCP stands for 'High-Bandwidth Digital Copy Protection'. It's job is to ensure that both sides of an HDMI Audio/Video connection are secure. Admittedly, this might be a good thing, as to make sure you
always
get your DVD/HD-DVD/Blu-Ray disc in HD, you do need to have HDCP. But couldn't they just release something that plugs into your USB2 port, and then is easy to unplug when you want it to?
Fortunately, ATI aren't rushing straight in with HDCP, and have so far only performed trial runs using it on older graphics cards. Smart ATI as usual.
Many people buying computers don't look at what RAM they're getting suggested a new study. This comes with the news from Gartner, that only 8% of the world have a 1GB stick(s) of DRAM in their computer. The survey showed that buyers prefered lower capacity, cheaper RAM. It is believed, taht with the launch of Windows Vista, 36% of the world will have at least one 1GB stick of DRAM in their PCs. Shows how much Microsoft influences the world, even with other companies gaining on them all the time, and Microsoft sustaining blows around the head from the EU, fining them for every little this and that in a bid to bring them down.
Fan on a stick... of DDR2 DIMMS. Highly esteemed, highly overpriced memory maker Corsair, has launched a new type of high-performance memory, that really does make you stop and stare. The XMS2 Dominator (Yes, that's what they called it. We can't make this stuff up.) has a built-in specially designed heatsink for heat dissipation. The product line contains two 2GB modules, both clocked at ridiculously high speeds of 1111Mhz and 1066Mhz. The higher speed of the two ratings has low latency timings of 4-4-4-12-2T, whereas the other module has timings of 5-5-5-13-2T. Both low latency, meaning Corsair have obviously forgotten that the Intel Core 2's Netburst Architecture doesn't get on with the lower latency timings, therefore gains no advantage by using it. I saved the fan till last. It's actually an add-on, costing £12.99 ($25 USDs), but when you see the price of the RAM, you'll be scrambling to get this to make sure it doesn't explode when your testing out your overclocking skills.
Universal Music will launch a new service in December, SprialFrog. It will only be open to Canada and America, and will carry heavy amount of advertising. The plan is, that by providing free music downloads, millions of people will go there each day, therefore alot of them will click on the ads that will be displayed all over every page. If you can stand them, that's great! But if like me, you have several advert filtering packages, then you won't even see most of them. The big problem, is that if your an owner of an iPod, you might notice that all of the songs provided are incompatible. You will however be able to play it on all other MP3s, and almost certainly on the Microsoft Zune.
Labels: Apple
Half an hour ago, at 9:30 AM BST, on BBC Radio 4, a program about bloggers and blogging was aired in the UK. The show lasted 10 minutes or so and was run by Mark Savage. He was talking to some bloggers who lived in North London, mainly about their blogs to do with their life. He reported on how bloggers dont' share any information that might give away their identity, but more information which people might find amusing, random and fun. The articles mentioned were from blogs such as 'The London Underground', and other blogs which talk about transport. It'll be on the same time next week, see if you can catch it.
Labels: Blogging
Will the PS3 even make it onto the shelves? Sony think so, the rest of the world will believe it when it sees it. First we were hearing that Sony planned to ship 4million units by the end of this year, then we heard that they couldn't (surprise, surprise!), now we're hearing from silicon valley, that they can't create enough MLCCs (Multi-layer Ceramic Capacitors) for all of Sony's consoles. This is very bad news for Sony, and comes just days after their share price dropped hugely because of battery recalls, their share price has dropped even further with this news, and is expected to drop still more when Sony spends 30billion Yen on new batteries for all of the latops that they've recalled lately. The Korean rechargable battery market is booming meanwhile. Sony just got pushed into the deep end. Let's see what happens.
UPDATE
: Wired News are just as unhappy with Sony as we are at the moment. I recieved an e-mail containing
this link
from a reader.
Labels: Gaming
Microsoft Canada yesterday let slip all of the price plans for the upcoming Windows Vista operating system. WIth it came the news that Vista probably won't actually be released until the end Q1 2007. The price for the top of the range Vista system, Microsoft Windows Vista Ultimate Edition is $499 Canadian dollars, which. This works out as just over $450 USDs, which when rounded up to the nearest penny, is £236.99 GBP. The other Vista systems come priced at $270 USDs for Vista Home Premium, $233 USDs for Vista Home Basic and $341 USDs for Vista Business edition. Ultimate Edition, in case the price and the name hadn't given it away, is extremely good. It has the Aero GUI, Gaming Tools, Hardware Monitoring and Tweaking, HD-DVD making, and a whole host of other applications. When I get my new computer (which I'm saving for), I'll be getting the Ultimate Edition. I'll be building my computer myself, so wish me the best of luck! £182.25/£3750
UPDATE
: Amazon.com reckon they have the release date! (Reckon!) They've never been good with dates though. We think they may have a bad sense of time. But if they're right, January 30 2007 is my lucky day!
Labels: Microsoft
I'm not even using the new Blogger Beta program, and it's wreaking havock upon my blog. It seems that I'm not the only one though. Sometimes (try refreshing), the Blogger search function at the top of this page doesn't even show up. Other times, it does, but in a mized up order and is dotted about the page. I can no longer upload my own images to blogger and am having to hotlink to alternate versions of the image from other sites, and put a link back. I'm having trouble republishing my blog aswell! About 75% of the time I get an error message. But this is affecting many bloggers, not just the Globa-Tech blog. 'It's all to do with our new Beta program. Some users are seeing the side affects of beta services, while not actually recieveing the services themselves'. As that Blogger employee said, it's pretty much a no-win situation for people like myself. I've found some hacks round though which seem to be holding for the moment. For example, if you'r blog is being affected by the republishing problem, try to e-mail your blog to get it to post. Hopefully you've already set this service up, because if you've not, then you can't post till Blogger comes round and fixes the bug.
Labels: Site News
Logitech are producing some really top notch products lately, and if you read our article on the
latest Logitech mouse
, that may have already become apparant. To compliment your new amazing mouse, why not get the even newer Logitech Z-10 Interactive 2.0 Speaker System? It ships in September and matches the Revolution mouse nicely. It incorporates a touchscreen LCD display into the main speaker, along with a full set of controls, while the other speaker bears a little Logitech logo in a contrasting white. The speakers remain incredibly thin, and if the pictures and specifications are anything to go by, these little speakers could become the top sellers this Christmas for the style-conscious, music loving PC owners. The LCD display shows you everything from the time, to what song is playing in WMP, WinAmp, MusicMatch and... of course, iTunes. They also let you skip tracks, pause, play, change the volume, treble and bass input. The speakers sit at a tall 9.7 inches and cost $150 USDs. I'm getting these, why the heck not? Picture from Gizmodo.
This is some of the cleverest advertising this year. After somebody leaked Microsoft's internal training video remake of The Office starring Ricky Gervais, IBM went public and shot a 3 part series imitating Microsoft's video. They also slip in their web adress at the end, just so they make some money out of it.
Very funny if you ask me! Just click on the play buttons in order startin gat the top.
Can a plane travel twice the speed of sound at an almost silent speed? Well Lockheed Martin certainly thinks so, and have invested $2.5billion USDs in making it possible. Lockheed's special SkunkWorks unit is designing a 12-seater private jet capable of travelling at speeds of up to 1200mph. If you compare this to a Boeing 767's speed of 560mph, you start to see the difference. The 130 foot long jet is being designed for the SAI. The jet is targeted at wealthy business execs, important diplomats and the US president. Did I just say that? Yep! There are unconfirmed rumours that the whitehouse has pre-ordered on of these planes to carry the president around the world while he surveys the mass destruction his country has caused because of global warming, while at the same time worsening the problem.
Picture from Wired News.
We were contacted earlier today by the owner of a website which has been hot on the headlines recently. Apparently, he'd read our blog, and enjoyed it and thought that we might be interested in his new service, and we certainly were! Read the document he sent us below. I can't deny that I was intrigued. I might actually set up an e-mail to post after my death.
A new web service has been launched to allow communication after death.

Post Expression facilitates the creation and storage of multimedia messages that can be sent by e-mail to friends, family and online acquaintances after the creator has passed away. The site is now live and accessible at www.postexpression.com

The new online service gives an opportunity to communicate final words of encouragement, confession and love; or private information that may get lost upon death. Already over 350 messages have been created.

Created by internet entrepreneurs Mark Wrafter and Ian Dodson, the site allows users to create as many messages as they wish, to as many groups of friends or individuals as they want, and then have these messages dispatched up to three years after death.

The thought of receiving messages from the grave has grabbed the imagination of thousands of web users around the world, with users from the US to Japan already signed-up and using the service.

Wrafter says: "People with dangerous professions such as the armed forces, racecar drivers and emergency workers will find it useful, so too the terminally ill, and anyone who realizes that death might strike at any moment."

Users might send one email to a group of 20+ friends; or an audio clip to a loving spouse; or perhaps send a video destined to be viewed by his or her children some three years after the user has passed away; a clever user might pass on his Paypal password to a loved one, or her MySpace password so the profile can continue to be maintained. It's even possible to add your own blog's e-mail address so you can make a parting post, bringing closure for your readers. The applications are limitless.

An extended feature of the service is one that empowers users to have their messages published publicly on the Post Expression website. Posts can be made anonymously, or with a by-line, the latter meaning their photo appears online, with cause and date of date. Only those who are dead qualify to get their messages published.

"People find it very difficult to sit down and write content like this," Dodson says, "those who are not close to death find it tough to compose a message to be read by their loved ones after they've die – it's a challenge, but immensely satisfying once you've succeeded."

Messages are released after a keyholder, who has been given a unique username and password by the user, unlocks the messages after the users death. Keyholders cannot change the message content of settings, preserving the wishes of the departed.


I might actually set up an e-mail to post after my death. It would be a nice way of letting you guys know 'Hiya! I've copped it. I won't be updating any more.'
Gorenje obviously think that lots of people spend £10,000 on a fridge. This is about $19,000. Yesterday Engadget reported that Gorenje were only making 10 fridges costing this much, but they would be top of the range, with a built-in temperature monitoring LCD and 700 crystals studded around it. Sounds pretty cool, but when you consider what else you could buy for 10k, the possibilities are alot more appealing. You could buy an extreme gaming PC, and Xbox 360, PS3, Wii, redo up your house or whatever else takes your fancy. The fridge/freezer is cool though. It manages to incorporate a radio reciever, voice messaging and a voice alarm. We're not going to buy one, but maybe you'll consider it.
Labels: Gaming
Remember that guy? You know the one. Guy Goma? The Guy who was on BBC by accident and all of a sudden became internationally famous? Yes, I take it you do, as I can hear your laughter from here. Reoprts are just in that Guy Goma has signed a six-figure deal with Alison Rosenzweig, to star in a new film she's directing. On the official GuyGoma.com website, they said 'Alison Rosenzweig plans to produce a film based on the life of Goma. Alison first contacted Goma through Mark Wrafter who runs the guygoma.com website. Spokesman Kizzi Nkwocha said: "We have had extensive talks with Alison about the movie and everyone is very excited.' At Globa-Tech, we've requested an interview with Guy Goma, and are still awaiting a descision. We'll edit this post when we get an answer, whether it be what we want ot not.
UPDATE
: The request for an interview has been forwarded to Guy Goma's publicist (Yep! He has one now!), Kizzi.
Microsoft and Razer have teamed up to create 'A mouse jam-packed with performance options for gamers'. What the mouse actually is, is an Intellimouse with the internals of a Razer. Not exactly what you think of when somebody mentions extreme gaming, heh? Apparently though, it's not as bad as it sounds. It has DPI-on-the-fly adjustment toold built in and can be controlled by two fancy buttons just beneath the scroll wheel. All the buttons have cool little razer edges, and the mouse itself eminates an entrancing blue light. The mouse has 7 buttons and a scroll wheel. More than enough extra keys to assign to Counter-strike. The mouse will go on sale in the US for $70 during the month of October, but no release date or price is known in the UK. It's not even wireless though, so we see no reason why you'd want it when you can pick up much better wireless logitech gaming mice for the same price. This is nothing compared to the Logitech Revolution MX Desktop Mouse, and that's only just more expensive.
Labels: Microsoft
There are so many different blogging platforms to choose from. Wordpress, Blogger, TypePad, LiveJournal, Vox and many more are available, but which one is right for you? Let's start off. If you don't have your own host or domain, blogger and wordpress are probably the two most well known for giving you hosting and a domain. At the moment, if you want to customize or build your own layout, Blogger is the best for you. This is the reason I use it. But all this might change with the release of the next Blogger update if they do drop HTML editing support. Though unlikely, they may drop the 'Revert to HTML' from the final release, hence making it near-impossible to customize blogger. If you wanted to use wordpress, be prepared to shell out $15 on the ability to customize CSS, and more for other upcoming features. If you choose to download wordpress rather than just run the web-based version, you will see the advantages imidiately. I won't go into detail, but it lets you choose from a wider array of layouts and let you download ones pre-built by others. TypePad offers great service all round, and is a high-scorer. Infact, I'd be using it if it wasn't going to set me back $150 per year. During the trials, I saw it was in all sections superior to the others, except for price.
Blogger Pros: Great customization tools, ever expanding array of features.
Blogger Cons: Plenty of bugs, awful technical support, no categorization (though will be in next release).
Out of ten: 7.5
Wordpress Pros: Categorization, easy drag and drop layout editing, widgets.
Wordpress Cons: Only the downloadable version can match blogger.
Out of ten: 7.5
TypePad Pros: Great all round performance.
TypePad Cons: Unless you make masses from your blog, this is too expensive.
Out of ten: 7.0
LiveJournal Pros: More social aspects than the others,
LiveJournal Cons: Socializing is about the only good thing. Everything else falls apart.
Out of ten: 5.5
Vox: It somes out in October! I've not reviewed it yet!
As you can see, none of them exactly scored high. That's because I beleive each has features that the previous lacked, and in turn lacks something it had. Only if they could all combine, they would have scored alot higher. You may know I tried to switch from blogger to wordpress a while back. It wasn't sucsessful, but when/if I get my own server, I'll be trying again.
Labels: Blogging
On Monday, websites, companies and organizations will be able to offer their employees or members, free online E-mail, calendar, instant messaging and a page creator. All of this will come with 2GB of storage and is kindly put together and provided by Google. It's based on the existing GMail and Google Home services, but also adds a page creator for hosting your own mini website. Google is due to announce later this year that it will also becaome a paid service for those are are willing to sheel out that little bit extra for a whole aray of new features. I'll be beta testing this when it comes out if I can get a place. Assuming google doesn't make it a privatised sign-up process of course. This is not much of a surprise as the comany has been touting that they might release something like this for a while. I'll keep you posted as best I can if I manage to get my hands on it.
You think you've played 3D games when your using your RadeonX1950XTX and your 50inch HD plasma monitor. Think again. Check out
this
astonishing article on Wired News. I was recently at a LAN Party in the UK, and some older friends were talking about similar technology that they'd used demoing games in London. It really is 3D, without the need for geeky blue and red glasses though.
Well this is a great way to squeeze money out of gamers, that is, gamers who are still playing on Macs. This is increasingly rare nowadays, what with Conroe only available on Windows and the same going for the Graphics industry. But for players who are still using Mac, if they're using the new Intel versions and have the original Halo game, they can get a 'Performance Enhancer'
here
.
While we're on the topic of Conroes and Macs, I thought I ought to point out that there is alot of speculation on whether Intel are gearing up to ship a new range of Macs with their new processor. This all started when Intel Macs were stopped being supplied to many manufacturers last week. All of the manufacturers set a 'back-in-stock' date of September 14, give or take a few days. This is almost identical to what happened last time Intel started shipping their new processors in Macs, therfore speculation is rife, and both Intel and Apple are enjoying some extra media attention, not as if they need any more however.
I was blissfully unaware that Nintendo had set a launch-date for a Nintendo Lite Pink special edition. I would have prefered it if it had stayed that way, but some pink loving reader sent in news telling me. The unit itself is identical to the current white model available already, and an onyx model is due to launch with the pink on September 13.
I'd like to say that if anybody dares alert me to any 'pink' technology news that I may have conveniently missed during the past few weeks, please stop. My inbox has been flooded with people finding the whole the thing very funny. But the joke is over now. It's just becoming spam. I've installed a filter in my GMail account, which does actually now class anything with the word 'pink' in it as spam. I wasn't joking!
Labels: Gaming
I'm happy to announce that normal posting seems to be back online after some talks with several astonishingly pathetic blogger employees. Either this, or blogger have donned their bots with human names and given them a personality.
But straight to the point. Microsoft have given detials of their Xbox 360 Live Vision camera for the first time in the UK. The pricing is alot cheaper than anticipated and gave the whole community a shock when announced. I know I'll be getting one. Anyway, the prices. The basic setup costing £35 contains the Xbox 360 Live Vision Camera, Standard Wired Xbox 360 Headset, 1 month trail of Xbox Live Gold, UNO and TotemBall. Pretty random, we know! But that's not all! There are rumours of a second package. This costs £60 and comes with everything previously listed but with 12 months of Xbox Live Gold, Robotron and 200 Microsoft Marketplace points. The extra marketplace points are enough to get you an add-on for Elder Scrolls IV: Oblivion. Not bad! You're also getting better value for money if the second package does indeed materialise.
Pluto has officialy been stripped of it's status as a planet. First discovered in 1930 by American born Clyde Tombaugh, Pluto has had it's status downgraded to 'Dwarf Planet'. This has happened due to the IAU's revision of what defines a planet, from a large piece of rock hurtling through space and time. Sounds like fun doesn't it! Not really, and it certainly wasn't for the 2500 experts who've spent the last week voting on definitions, downgrades, upgrades, and whatever else they think matters to the world. Neptune may also be demoted from a planet into a dwarf planet aswell, but only if the IAU members vote for it to be. This is because it also doesn't meet the 'planet' criteria. The new definitions mean that 3 other objects may be classed as planets. These include the asteroid Ceres, Pluto's moon Charon, and a distant world called 2003 UB313.
These new revelations are throwing the whole astronomical world into turmoil, and it's not yet clear how the battle will end.
The blogger post thing still hasn't been fixed. I sent in an error report to Blogger Tech support, and got this. 'Have you checked our
http://status.blogger.com/
page? It has all of our recently fixed bugs listed there, and one's we're working one.' They think I didn't know that? I don't know, but that was stupid advice anyway. The problem is one of their so called 'fixed bugs'. I'm also having to deal with another one of their 'fixed bugs' too. This one is to do with the 'Publishing your site' percentage gauge constantly staying on zero. I have just one thing to say. Stay away from Blogger Support at all costs. They're hopeless. Another reason I should move to Wordpress, but can't yet.
The article itself. Sorry! It has been revealed that the 'mysterious and possibly threatening device' found from incide a blocked loo on an areoplane flight to Canada, was indeed an IPod. The passenger who dropped the iPod into the toilet was faced with sniffer dogs, a full body search and special treatment from anti-terrorism officers, bomb squad investigators and boring old airport security.
Procedures to land the plane had already been called for, as well as the police and the bomb squad. The entire flight was evacuated, and the moron who left the iPod in the loo was taken into custody, handcuffed and taken to a room.

When asked why he was on the plane, he answered, " I was to visit a friend I met on

World of Warcraft

, Cara." He then had to explain the idea of an MMORPG and a guild to security, so that it wouldn't be misunderstood as a terrorist threat. No doubt that Cara was impressed. To view a post made by the person who caused the whole problem, click on the links below. I can't send links through the e-mail, as HTML is blocked, so the URL will have to do.

http://forums.worldofwarcraft.com/thread.html?topicId=11211166&pageNo=1&sid=1

Labels: Apple
I don't have a clue what's going on, but today, my blog and many others have been recieving an error saying '001 java.io.IOException: No space left on', and then it goes on quoting my blog directories etc. The only way I am posting this is through e-mail, and I'm not even sure if this will work. Fingers crossed! The error means I can't post through my google account, blogger, flickr, etc. and also means that I can't republish my blog whatsoever! This is a big problem and is why I haven't posted today. I sincerely hope that Blogger/Google get off their butts and do something about this, quick! If you're reading this, I'd also like to mention that I'm going to be running a competition soon. The competition will involve designing a new logo for Globa-Tech Today. The prizes for the best ten will be GMail invitations. I will NOT be giving them out to people who don't win.
Labels: Site News
In 1999, all the hardware it took to run google was a couple of desktops (not even servers!) and two guys. You can imagine now, that this isn't really realistic in today's world, what with Google being worth over $20billion USD. That's more than £10billion, more than enough to save alot of people's lives in Africa, or just build a really cool super-computer that could run Folding@Home and top the leaderboards! If you want to see all of the high-tech hardware that Google needed to run their mostly unheard of search-engine back in 1999, check this out! Picture from Engadget.
Yesterday, the Logitech Revolution MX Desktop Mouse shipped yesterday for £75 and we're proud to announce that it is officialy our mouse of choice after only being out a day. The laser guided mouse with freely-rotating scroll wheel reminds me of the Logitech G7 Cordless Laser Gaming Mouse. Checking the Logitech website recently, I noticed that the G7 has been given an aesthetical makeover from the teal/green colour it used to have and now has a quality black finish with blue buttons and an orange battery indicator. Very nice. But that doesn't stop the Revolution MX from looking and being even better whilst costing exactly the same! According to the Logitech product page, the MX is 'Smarter, faster, and fully-loaded. The MX™ Revolution gives you powerful, new controls that will streamline the way you work. Logitech's innovative MicroGear™ Precision Scroll Wheel lets you fly through long documents at hyperspeed, or switch to precise click-to-click scrolling for navigating lists, slides, and image collections. Toggle between open documents with the convenient Quick-Flip thumb wheel, or search the Web by highlighting a word or phrase and pressing the Search button.' And well, it does pretty much that. It provides smooth, comfortable gliding and is well worth buying if you can afford it.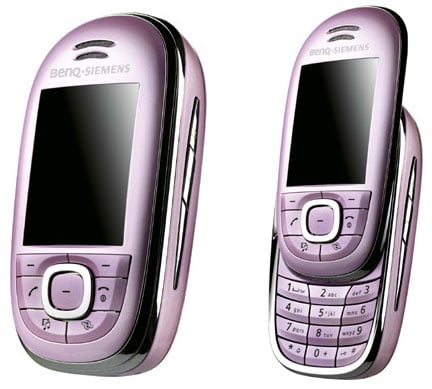 I've had enough of pink this last week. Pink this, pink that, 'Oooh! Let's turn the PS2 pink!', etc. and I'm at exploding point. To top this all off, I've just got wind of the BenQ SL80 from a lovely viewer, who after reading my post 'Pink, Pink, PINK!', thought I ought to know. I already knew that earlier this week BenQ had launched two pink/feminine phones, the 'Hello Kitty' and 'Butterfly' AL26 slider phones, but this is just rediculous. It looks like the tech world got the message about the whole 'failing women' thing. Just stop with the pink! Anyway, I thought you ought to know about the new SL80. BenQ say it is a 'elegant premium class mobile... a luxurious design statement for fashion-conscious women'. In other words, it's just another pink phone. The specifications sheet lists it as tri-band GSM/GPRS/EDGE phone with a 1.3 megapixel camera with 5x digital zoom and LED light. Ot also has Bluetooth and 52MB of on-board memory. The phone has a built-in flowery background, but thankfully doesn't ship until October. We'll hopefully have a pink free September till the SL80 returns to haunt us all.
Sony announced that all PS3s spare power will be used for medical research into understanding how Alzheimers disease can be prevented along with several other high-risk diseases. This is another big boost for the project in which US scientists are trying to cure the disease, and comes just hours after it was announced that scientists had managed to restore the memories of mice with the disease. Click
here
to read the article. At Globa-Tech, we've decided to called Sony's folding project FOPS. It stands for 'Folding On PlayStation 3'. The PS3 folding project will work in a rather similar way to the very popular Folding@Home project. Ten-thousand PS3s harnessed together could calculate more than ten-thousand trillion calculations per second, meaning that there is a real chance that this could help work out complex calculations needed in drug creation. I'm personaly very excited by FOPS and can't wait to see it in action. I seriously believe that this could be the way forward.
Labels: Gaming
It's not just mobile phones and game consoles going pink this autumn, it's laptops too. This is all hunky dory... If you like pink. I'll admit, it's definitely not one of my favourite colours and I'm not so keen on anything that looks too pink. The Samsung Q40 is a perfect example of something being too pink. It's a very slim laptop that somehow packs in a 1.2Ghz Core solo processor, 512MB of RAM, a 60GB HDD, 128MB intergrated graphics, bluetooth, firewire, wi-fi and a 12.1" screen. You'd expect something with these components to cost about £480, if that even. But Samsung still think that consumers are blind, albino crabs living in the dark ages and have priced it at £1300 ($2500 USD). No one in their right mind will buy this laptop, but then again, that's quite alot of people.
MyFabrik is a new online data storage and sharing application. The application has loose links to Maxtor and lets you upload and download pictures, documents, videos and music. The last two could pose problems, and the team behind MyFabrik are trying as hard as they can to prevent copyright infringement. MyFabrik has the ability to quickly post the files you choose onto eBay and MySpace.
The Microsoft Zune is to be maufactured by Toshiba announced Microsoft on Thursday. "Toshiba has one of the better received portable media centers out there, so it makes sense that Microsoft would have chosen them," said Jon Erensen, a well known analyst in the world of technology. "If you look at the GigaBeat F, one of the new portable media centers that was introduced at CES last year, it was one of the better designed pieces of hardware that was out there, so it's not too big of a surprise that Microsoft would try to work with Toshiba and take advantage of their expertise in that area."
Labels: Microsoft
Microsoft announced earlier this month that photos could be transformed into 3D models. This went down worse than Microsoft had expected, and was greeted with a wave of laughter from the Tech community. That is, until now. Microsoft has set itself a release date for it's web-based Photosynth software, for later this year. The software is admitedly slow, after showing a demo off at a developers conference, but Microsoft say that 'You'll be able to walk or fly through a scene of photos, as if you are really there.' Details on how Photosynth works are yet unkown, but what is confirmed is that the software takes collections of images, analyses them for similarites and then constructs models of them in a constructed 3D space.
Labels: Microsoft
After even more deliberation than ever before (Yes... Even more than the name change!), the Globa-Tech Today Team (try saying that 5 times really quickly with mashed potato in your mouth) has decided that, in the best interests of the site, the users, our layout, the ease of filing things under categories, convenience for myself, and many more things, that the Globa-Tech blog will move to a Wordpress hosted address. We will be busy taking all the old posts over there, and filing them under the correct categories and dates. This is a gruelling job as I am sure you can imagine and is not one I would choose to take up, unless I really thought that everyone involved would benefit. This change is not going to be instant, and our blogger hosted blog will always remain here, so dear to our hearts. Well, not really. It was a pain in the backside for me, and I'm much looking forward to Wordpress!
Hoping your all wishing me the best of luck,
Delta
EDIT
: This is hard. This is boring. This is darn annoying too. It'll be worth it though. At least I hope it will! This even more dull as compiling and filing every article I've ever written into the archives. That tooks hours, and this is going to too. Don't expect the change-over any time soon.
MAJOR UPDATE
: Oooooh dear. I won't go into detail, but let's just say that this whole change over is cancelled. No more questions. There were some problems, the layouts weren't what I wanted. You may have many more extra features on wordpress if you have your own private host, but blogger is better otherwise. Until Adsense starts bringing in a decent income, we'll be sticking with blogger. Sorry about all that.
Labels: Site News
The official Google blog today stated that, 'Clips from MTV and its associated channels such as VH1, Nickelodeon and Comedy Central will start appearing on a site near you that is part of Google's AdSense programme.' This comes only a few days after YouTube announced that it planned to team up with the world's biggest music publishers and put every music video ever created onto their site. It would certainly be a big boost for YouTube, but at what cost will it come for average users?
Apple have just announced that they will be recalling 1.8million batteries after overheating complaints. This follows Dell's anouncement last week that they would also be recalling 4million batteries from laptops. It also comes after a surge in complaints on Apples forums about their whole line of laptops. Overheating issues, random shutdowns and user lockouts are only half the problem.
The laptops affected in the recall inclue the iBook G4 and the Powerbook G4 which were sold between October 2003 and August this year.
Labels: Apple
Thousands of broadband customers have been locked out after BT Wholesale stopped providing Euro1Net with access to broadband. This is due to non-payment of bills on Euro1Net's part. Any Euro1Net users are now greeted with the rather helpful and reassuring message of 'BT Wholesale has stopped providing a service to Advanced Data Services [Euro1Net], due to the non-payment of invoices. This means that your broadband service has also ended.' whenever they try and access the internet.
The UK has the highest rate of machines infected with spyware out of Europe. This is quite embarassing, considering most high profile anti-spyware campaigns have been centered in Britain. If you look at the rate of infection, you'll find that the annual spread is increasing at a dramatic rate and that this is just the beggining of spyware. It's up to people like you and me to prevent spyware, but even with our best efforts of warning our friends, I know several of mine who've been infected, but say they don't care. I wonder if they'd care if sypware got their parents online banking details and posted them on the net? That might change their point of view.
Awareness is the key though. You need to alert your family and friends of the seriousness of sypware and the impact it can have on their lives. There are plenty of stories on the web you can tell them about people's bank details that might scare them into taking more care into whichc pages they visit, and what they download.
The layout you see before you, is something that I've been working on for many hours. It's not perfect, but after alot of bug testing, I think it's safe to say that it's out of it's beta phase. The layouts name, Simplis1.01
It is based on the White Minima layout provided by Blogger, with many adaptions made by me. You may also notice (you'd have to be blind not to) that instead of the standard text link at the top saying 'Globa-Tech Today', we have a new swanky bar with our name on that looks much more professional than the text link. My cousin in Scotland may beg to differ, but it's the Globa-Tech Team's blog, not his. I've droned on too much now, but I hope you like the new layout, new theme, new design, or whatever you want to take it upon yourself to call it.
Delta
EDIT
: I've now started work on Simplis1.02 It's much better than the current design, features two sidebars and far more easy to navigate. The right hand sidebar contains all of the clutter, adverts and whatever else, the left hand sidebar containing all of your favourite links. If you'd like to see and test it for yourself, click
here
or go to http://globa-test.blogspot.com/
If you find any bugs in either version (trust me, there are plenty), please let me know by leaving a post attached to this article. Thanks!
Labels: Site News
After yesterdays post in which I speculated on the European and British price of the Nintendo Wii, a price has been confirmed. 'The Wii will retail for under €250 in Europe and under £170 in the UK. This is fourty or so pounds more than I'd expected, but it's still far, far cheaper than it's next-gen counterparts.
Labels: Gaming
75% of UK web users connect to the internet using broadband, newly released figures claim. The Office Of National Statistics said that 'broadband connections accounted 72.6 per cent of all internet connections in June compared to 54.4 per cent in the same period last year'. The overall number of UK households with internet access reached a 14.3 million (most of the new connections being broadband), representing an increase of 57 per cent total between 2005 and 2006. I think you'd agree that that's a pretty big figure.
Razer, the popular gamers mouse maker announced that they were preparing to launch their long-awaited iPod dockable keyboard. The Pro|Type Multimedia Keyboard has in-built picture zoom in/out keys, full iPod control built in, ten customizable macro hotkeys, line out audio ports and two USB 2.0 ports to add space to plug in your mouse. I like laptop feel, soft keyboards and from the reports, it looks like this could be on of them. If so, I think I'll go out and buy this keyboard considering it looks good aswell. No word on the pricing though as of yet.
Labels: Apple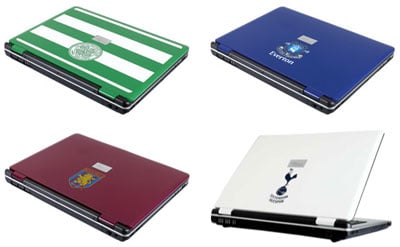 It seems like branding laptops with badges and colouring them is all the rage at the moment with Fujitsu Siemens releasing four laptops, each emblazened with a football/soccer club badge. Celtic (top left), Everton (top right), Aston Villa (bottom left) and Tottenham Hotspur, have all agreed to take part in the trial scheme. FS promised other clubs too, from the Scottish leaugue and the Premiership if all went with the four horrific things you see above. They're not that bad I suppose and they're not too badly priced either at $1000 USD. All the notebooks are FS Amilo Pi 1536 machines, each with a fairly small 15.4in, 1,280 x 800 widescreen display. For gaming, an ATI Mobility Radeon X1400 GPU with 128MB of video memory is supplied. Not great, but it'll manage Fifa. The laptops have a gigabyte of DDR 2 SDRAM RAM, a 120GB SATA hard drive and a 1.83GHz Core Duo T2400 processor on board. There's built in 802.11a/b/g Wi-Fi, Gigabit Ethernet, Firewire and three USB 2.0 ports. I'm waiting for the Liverpool one. That's if it doesn't turn out looking like a pizza.
Just a day after David Gardner announced that the videogames industry was failing women, Sony has announced that on October November 1, they will release a Pink PSP Value Pack (170 GBP) and on October 27, a Pink Slimline PS2. It's evident that before the release of the PS3, Sony are trying to flog as many PS2s as they can, but does this signal that they're worried? I certainly think so, and lately, Sony has been pushing out new models of the PS2 like crazy. I don't like the slimline PS2s myself, but prefer the big chunky silver one. It looks so much sturdier and hasn't ever fallen off my TV stand whereas the slimline model has. SCEE's Stephane Hareau said the launch is about "much more than just launching a new colour", adding: "The association with Pink will enable PSP to push new boundaries." Yeah right Stephane. Yeah right.
Labels: Gaming
It's quite clear now, that Nvidia are falling behind, and that ATI now lead development in the Graphics Card industry. Even still, many people prefer to stick with Nvidia, because they keep their same old favourites. If you're one of these people, then you seriously need to reconsider, with today being the paper launch for the ATI Radeon X1950XTX. With a shipping date set on 14 September, some retailers are claiming they are already shipping now. ATI's flagship X1950 card boasts 'The fastest, quietest, coolest performance yet. Up to 15% faster gameplay than the X1900XTX. The X1950 series sees ATI make a brave move into the world of GDDR4 memory which isn't yet widely available, but according to Samsung, 'will be in a short period of time'. The X1950XTX comes with it's memory clocked at 2Ghz, which is a record in itself. The core speed, amount of vertex shaders and pixel shaders however remain the same as the X1900XTX, The X1950 CrossFire edition has exactly the same specs as the X1950XTX, meaning it won't be less powerful like preious crossfire models. The new and improved cooler installed on the new series is built from solid copper, considerably adding to the weight of the card. It also uses a heatpipe, something ATI has previously always overlooked and considered unessecary. This draws the heat away from the card's chips to a heatsink within the fan itself, which makes it far, far wasier and quicker for heat to be expelled out of the case.
I'm looking forward to this, and am sincerely hoping that Sapphire get round to creating a 'Toxic' model, just like they did with the X1900 series. Click
here
to see it in action.
Illegal file sharing has suffered a series of painful blows recently, including the legalistation of Kazaa and several other high-profile court cases. The next in line, Bearshare. After being purchased by Musiclab, Bearshare has become a totally new, legal service & software package. Musiclab's iMesh will continue to run as normal, as a completely separate service, but iMesh announced that the two
could
interact. Free Peers, the previous owners of Bearshare agreed to settle with the RIAA in May.
I've been very busy today completely revamping the RSS layout and styles. Soon I'll move onto the Atom Feed, but the large majority (96%) of our Feed Subscribers use the RSS 2.0 version, so I think this demands imidiate attention. Also, the Feed count button appears to have broken during my work on the feed, and I hope to get it back up and running soon. In the meantime, I'm using a new substitute button which has reset the count to zero. I'll edit the post and let you know when (or if) I fix it.
Thanks,
Delta
Labels: Site News
Over 65% of domain names are hosted in the USA, Germany comes in second, but only just, and has 12 times less registered domains than the US. Canada is in third place, and the UK scraped fourth place with only just 3% of the global total claimed the report, published by IPwalk. Here's what the figures looked like:
United States, 67.23 per cent (52,277,677)
Germany, 5.71 per cent (4,442,041)
Canada, 3.60 per cent (2,802,411)
United Kingdom, 3.37 per cent (2,617,679)
China, 3.22 per cent (2,503,430)
The rest combined, 16.86 per cent (13,111,810)
The winner is obvious, things won't change for a while, but their's hope.
Microsoft, on the eve of it's Seattle Gamesfest revealed a new product. XNA Game Studio Express, will allow students and indie developers to develop simultaneously on their PCs and Xbox 360s. It also promised the ability to be able to 'share your creations with others in an Xbox 360 Creators Club.' I personally am rather excited about this, and plan to buy if it's price is not too steep. The release date and price are yet to be released, but this promises flexibility and infinite possibilites to game makers out there.
John Hodgson , a Microsoft Australia Technical Specialist, speaking at a blogger's breakfast prior to the opening of Tech Ed 2006 in Sydney announced that the Live Drive basic service is likely to include around 2 Gigabytes of online storage that can be mapped directly from any PC using Windows Vista, Microsoft's upcoming and highly anticipated operating system. He also said that additional storage wouldn't be available for purchase, and that release dates and pricing schemes were yet to be announced.
Labels: Microsoft
The Xbox 360 Core System has had it's price slashed by £10 in major retailers such as Play.com, Dabs, Amazon and several other trusted retailers bringing it's cost down to £199. Microsoft claims they have had nothing to do with the price drop, and that it is merely the individual companies waring with each other for customers. This is quite likely, but the Xbox 360 Premium System (with accessories) is still proving to be the top hit, and is remaining solid at it's £279.99 price tag everywhere other than Dabs.com, which sells it at £269.99. When I bought my premium system a few months back, I got mine from Dabs. They have pricey shipping, but it's good quality, and on British bank holiday weekends, they usually offer free shipping on orders over £250. Of course rather conveniently, there's a bank holiday coming up this week. They'll be looking forward to a sales boom I expect.
An executive from Electronic Arts, one of the dominant games publishers yesterday revealed that EA reckons that the Nintendo Wii will cost $170 USD when it is released later this year. An interview with David Gardner from GamesIndustry.biz earlier this year also said that,
"I've heard in Japan that the price is about $170, but I don't know if the price has been set in Europe yet… Nintendo has come up with a very clever strategy, they've made a choice which is great for the consumer. Now we're going to have a choice whereby consumers can buy a Wii, plus one other console."
And he's quite right of course. The Wii costs less to build than the PS3 and the Xbox 360 and promises equally as good gameplay if you don't mind not so brilliant graphics. We'll be getting our hands on one as soon as we can.
Labels: Gaming
Despite blogs playing a major role in everday life for the average techy, geek, or internet surfer, in britain, only 24% of people asked, would trust content from a blog. Only 36% would trust websites, 63% trust newspapers and 66% of people would trust TV. The survey was carries out by Telecom Express, an interactive marketing company. 'People prefer to get their news from television, radio, or other traditional media sources' claimed the report.
It's about time that somebody stood up to Microsoft, and it just so happens that that person, is Guy Kewney from Newswireless. He's that guy who never turned up on the BBC website when he was due for a interview about the apple courtcase a while back. Unfortunately, he never turned up, but a very confused taxi driver did instead. Click
here
to see it and when your done, click
here
to see the worldwide reaction to the blunder. The following article is Copyright © Newswireless.net, yataryataryar.
"Please find enclosed my invoice for £1,200 sterling for administrative and consulting work, caused by the need to repair Microsoft sabotage. I dare say you'd like details:
Last night, your organisation destroyed about three hours worth of work I'd done.
The work was a set of notes being made in a text editor which I am required to use by one of my clients. All the files were open last night, when a family emergency occurred, and I was unable to devote the 10 minutes required to closing them down. I was logged into a remote system with a one-time login, which I cannot get clearance for again till Tuesday. And I had several websites open on my desktop.
During the night, Microsoft took it upon itself to update my computer. I arrived at work to find a message stating: "Windows recently downloaded and installed an important security update to help protect your computer. This update required an automatic restart of your computer."
I have gone to some trouble to ensure that this doesn't happen. I have set Windows Update to "custom" - meaning that I will decide which updates I need to install, and how the update will be handled. And when an update says "this requires a restart" I have always specified that I will restart the machine at a time of my own choosing.
When you chose, on your own initiative, to disregard all my precautions and reboot this PC last night, I not only had several notes in progress; I also had about a half-dozen web browser windows open. It has taken me the best part of three hours to try to recall what I had discovered, and where - and I honestly doubt I will be able to recover the majority of those URLs. They took considerable research to find.
This event isn't the only example of Microsoft's assumption that my own preferences can be disregarded in favour of Redmond's whims.
I could quote the behaviour of my mouse. When I first had a Windows machine, it was a 12 MHz 386 computer. The mouse was a real-time peripheral. I mean by that, that if I moved the mouse, the pointer on the screen moved.
These days, I have a machine with a processor of 1.2 GHz clock speed. Just to make that clear: it's exactly a hundred times faster in its operations than that old 386. Where the 386 had one meg of memory, this one has exactly a thousand times as much. The disk on that one was around 50 megabytes: this one is 30 Gigabytes.
And yet, if I move the mouse, the software which now runs on this machine cannot keep up with it! The pointer starts to move, then hits a patch on the screen. "Hang on a moment! I have no idea where to move the pointer," says Windows. "I'll have to go and search my disk for the data which creates the images on the screen - I may be some time..."
Indeed, it may be. Typically, if I haven't used the mouse for a minute or so, it will be 10 to 20 seconds before the pointer stops lurching randomly around the screen, trying to work out, approximately, where I might have expected it to be if it had been able to follow the impulses from the device.
And if I inadvertently click it! - well, the fact that I saw, clearly, that the mouse was on a button I urgently needed to click, is irrelevant to Redmond. Redmond knows best; it will pretty randomly find a group of pixels, assign a purpose and function to them, and start doing whatever that seems to indicate.
Shall we talk about file downloads?
When I ask Internet Explorer to download a file, I expect it to arrive on my disk. It may take some time, and so, since Windows is supposed to be able to make this possible, I'll get on with some other work in some other program. I might, for example, write a letter.
In the middle of my typing, there is a flicker on the screen. What was it?
It was Internet Explorer and Windows Explorer. The one signalled the end of the download. The other popped up a modal dialogue box, asking me if I wanted to cancel the download? - and the next time I pressed the space bar, it took this as "yes, cancel!"
I only know this because I've seen the dialogue box before. While typing, the message appears, and disappears, too fast for the eye to register. Again we have my computer doing, not what I want it to do, but what Redmond has decided is most convenient for Redmond.
Of course, the file may be corrupted even if it does get downloaded. I can tell Internet Explorer to download it again. "File exists - replace?" it asks. "Yes." Does it replace it? No! - it checks to see if the file appears to be on the disk, and it then pretends to download it. But in fact, the "download" takes place in a fraction of a second, and the same, corrupt file is left on the disk. The only way of getting the correct file is to go to the disk directly, delete the corrupt file, and then go back and download. Again, Redmond knows what is best, and my opinions, as the operator of the machine, can be safely disregarded.
I really could offer another dozen examples, including the Language Bar, the task bar, the behaviour of "standard" shortcuts...and if you're interested, I can forward the list...no?
Thought not.
With the invoice for my consulting time, please find a message from me, and from many of my readers, who assure me they feel the same way. The message says: "You are not making any friends like this."
Your programmers need to be reminded that the convenience of Redmond is not our purpose in buying a computer. They should recall that these apparently irritating procedural trivia (to them) are things that matter to us.
The fact that they feel able to ignore this sort of complaint (indeed, this isn't the first time I've written along these lines, and I'm not alone) shows clearly that Redmond regards itself as above criticism.
The word for this behaviour is "arrogant". It will come back to haunt you."
And there you have it. Someone dared to stand up to Microsoft, and brought forward a whole host of other people to back them up. The tides are turning, the world is opening it's eyes, and time is running out for Microsoft.

Labels: Microsoft
Well. That was interesting. So much happened. I'll mention some of the more interesting things that happened in brief. The power failed on the plane during takeoff. As you can imagine, alot of screaming, panicking, and comeing from me, extreme laughter. Being given shoe polish rather than soap in the hotel bathroom also amused me. Sometime I might go into depth about it all, but right now, I'm tired and I have to clean up some major bugs and spam on the forum.
I'm off to Lanzarote. But I'm going to have to be x-rayed, hand searched, have all liquids take from me, be disallowed hand luggage completely, told I'm not allowed my mobile, and am going to have to go through even more extra security on top of that and expect a 3 hour delay. Why? Everybody else does, why should I be different? I'm not. After police foiled a bomb threat last night and were warned about another allegedly happening today, security has been tightened to maximum here in the UK. It's awful, everyone's scared, and it really doesn't help that MI5 are going round telling people to expect their planes to blow up mid-flight.
I'll blog when I'm back if I've not been blown up,
Delta
EDIT: Finally found some decent internet access. Not long left though, and a dodgy Spanish keyboard. See you!
Last week, I added a hidden stat-counter into the code of the page. Yesteday, we recieved over 1000 hits world-wide. Only 15% of these hits came from inside the UK. The others from Sweden, Australia, Russia, Canada, New Zeland and the USA mainly. I asked myself, 'Why is the site called
UK
Technology Today, when most hits aren't from the UK?'
After much deliberation, and talking to Seshi, we have decided to rename the site 'Globa-Tech Today'. It's a big change, I know, but I'm sure it will be for the good of the site, the readers and all those involved in the long run. The URL has also changed to http://globa-tech.blogspot.com, but remember that Tech.co.nr is our official address now, so we encourage you to start gradually using this rather than the Blogspot address anyway.
Thanks for your support,
Delta
Labels: Site News
And they weren't even hacked... Sorry. I'm getting ahead of myself. Right from the beggining now.
Yesterday, AOL released the search logs of over 650,000 users for 'research purposes'. This was done without any permission from the people involved, making it a privacy nightmare for the people involved. Social Security numbers, names, addresses, everything pretty much that could be used to identify these people was put for all eyes to see on the net. It's been taken down now, but if you're nosy, you should take a peek over at
The Pirate Bay
. And as the folks at TechCrunch, so kindly pointed out, you can find out exactly who's been planning to murder their relatives lately. Nice. But it gives you a taste of what people are searching for!
For some unknown reason, Blogger has flagged all of my blogs, (My Hosting Page, My Layout Tester, My Automated E-mail Comment Page and UKTToday) as spam blogs. Teh only blog not effected is The Delta Files. I've been having to type in word verification every time I post for the last week, and this is becoming a real pain. It'd only take Blogger/Google 10 seconds to work out that this isn't a spam blog. I wish they'd just hurry up.
EDIT
: 19 minutes (exactly) after posting this, my blog was freed from the clutches of the evil spam verification thingy-ma-bob after a week. Seems it did the trick!
It's also my painful duty to inform you that I am leaving for Lanzarote on Thursday. I won't be able to blog at all for 10 or 11 days while I'm there, but I'll do my best to find an internet café. My best hope is that the hotel I'm staying in will have a decent internet connection which I can tap into. I hope you all have a good summer,
Delta
Labels: Site News
Yesterday, Google bought the rights to supply MySpace, the internet social site, with Search and AdWords services. It didn't come cheap though, at $900 million USDs, Google beat other competitors Microsoft and Yahoo. The $900 million will be payed over three years, in the hope that Fox (the owners of MySpace), will encourage their users to get AdSense. Up until now, MySpace had used Yahoo's Overture service. Omid Kordestani, SVP at Google said, "This agreement demonstrates our commitment to bring the same innovation to monetizing user-generated content that we brought to search advertising. We look forward to other opportunities to partner with News Corp. to the benefit of its community." The current MySpace/Yahoo deal expires in sixty days. The deal with Google will not start straight away, but sometime in the first quater of 2007, and will end in the closing days of the second quater in 2010. The two companies also announced that, "Under the terms of the agreement, Google will be obligated to make guaranteed minimum revenue share payments to Fox Interactive Media of $900 million based on Fox achieving certain traffic and other commitments."
Considering MySpace and Google are some of the two biggest names out there, this could be quite a breakthrough for the internet as a whole. We'll be keeping an eye on this and letting you know if anything big happens.
Labels: Microsoft
In response to the masses of e-mails (okay, three!), that have been sent to me asking me why I'm displaying a hacking sysmbol on my blog, my answer is, I believe in what they believe, I also think that the hacking community as a whole is mis-understood, they're a bunch of ordinary people who have real friends as well as online friends, which really means that they're just like you, but with more friends if you get me... But you probably don't. Click
here
to see the original explanation.
The widely speculated Xbox 360 price cut will not go ahead, just as I predicted a Microsoft spokesman admitted last week, but they will be stressing the machines incredible price advantage over the PS3. With the top of the range Xbox 360 costing £270 from Dabs.com, and the PS3 costing twice as much for the lower-end model, which doesn't even support HDMI, Microsoft are confident that even without a pricecut, they can win the console war. Microsoft did however announce that they would be releasing a number of 'unexpected surprises in Q4 this year'. I'm personally very excited about this. This is most likely to include the External HD-DVD drive, the Wireless Gaming Headset, more arcade games, the Xbox Live Vision Camera and the possible introduction of certain extended parts of Xbox Live Gold becoming avaialbe to Silver members along with a drop in subscription price for Gold.
I'd just like to write an article, explaining about the whole domain system we're going through at the moment. As you know, to view the site at the moment, you need to type in ukttoday.blogspot.com, but soon, thanks to the great guys at FreeDomain.co.nr, you won't have to. They have let us use the URL Tech.co.nr to redirect you guys over here so that you won't need to type out the whole web address. We think this will make your browsing alot faster, and hopefully encourage more of you to come back here again because of the easy to remember address. It's not up and running yet because of some server downtime the guys over there are having, but it won't be long now. They have brilliant customer support that has so far responded to my e-mails in record time and I must say that I have been very impressed with the way that they've handled things. In return, we'll be putting up a little icon, that links back to them in the quick links section of the toolbar on the right. I'd especially like to thank Ziad for guiding me through the whole process, he was a great help and deserves recognition! Go Ziad! Go Ziad!
NOTE
: The Tech.co.nr domain is now fully functional. Now that saves you typing time!
Thanks for your support,
Delta
Labels: Site News
Every now and again, we look at new Open Source technologies and what their developing community is up to. Today we are looking at Firefox Themes. We've selected a list of themes that we think might really take off, and that have our backing:
1. Noia 2.0 (Great! It can only improve!)
2. Firefox Vista (Temperamental at best, but we can't wait till it's finnished!)
3. Glassier (Needs full icon skinning)
4. Qute Modded (Nice, but needs some tweeking.)
5. Phoenity (Great and colourful, just needs a quick polish off!)
And the Official Top Downloaded 5 in comparison are:
1. Noia 2.0
2. Firefox Vista
3. BlueShift
4. Silver Skin
5. iFox Smooth
Labels: Software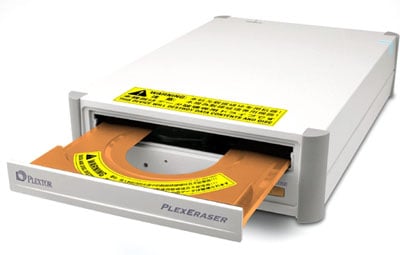 On Thursday, Plextor announced a new external optical drive called PlexEraser that is due to ship in September. Designed with the sole purpose of wiping your DVDs and CDs clean of data and making them unusable. This doesn't generally sound like something the average person would use, and that's why Plextor have designed it with 'Business or corporate customers in mind'. The PlexEraser (or the PX-OE100E) zaps the organic dye layer of the disc, preventing data from being either read or written. It does this in a rather quick 3 minutes, and dual layer discs in 6. And just incase that dopey hungover office worker is about to accidently zap the wrong disc, the inside of the drive is bright orange. The drive also supports 8 and 12 cm discs.
If you have a laptop, run Windows XP and are dissapointed with the battery life, then your'e not the only person. Myself, along with many other people, are extremely hacked off about this, and now know the exact reason why. Chances are, that if you have a Internal TV Tuner, Card, or any USB2.0 device attached to your computer, the this is why. In my case, it's my Wireless Network Card. Microsoft quietly released a patch for this bug which can be found
here
. Your laptop's version of XP will be validated during installation. The installation only completes and take effect if you're running a genuine copy of windows. You have been warned.

The Cybershot DSC-T10 is a Sony camera (in case you hadn't guessed). It's the 7.2 Megapixel upgrade over the current T9, 6 megapixel version. With a Carl Zeiss Vario-Tessar 3x optical zoom feeding through to a 230,000 pixel LCD finder. It's easy to digitally magnify pictures too, with the 6x precission and 14x VGA zoom. Packing in anti-blur technology, Sony's Super SteadyShot Anti-Shake System and a High Sensitivity Movie Mode, the T10 offers unrivalled quality based on it's size. The only thing that can possibly beat this is the Casio Exilim Zoom EX-Z1000 which costs around £380. There is no price currently known concerning the T10, but rumours have it that the U.S. price is $400, so we can expect it to cost £215 - £275. Significantly cheaper than the z1000, and still more than enough for an average persons needs.
Yahoo launched a corporate blog a few days back, and to tell you the truth, we think it's utterly messed up. We've tried their website on 15" 17" 19" and 20.1" monitors, in Firefox and Internet Explorer, but their side bars keep going walky. They appear to sometimes overlap with the content, othertimes just get moved down lots (like what happens in blogger if you add a huge image). The content itself isn't bad, but it isn't great, and it's nowehere near as interesting as some of the other blogs out there (This one included! Heh-heh!). Click
here
, to visit the blog.
It's the Golden Joystick Awards 2006. The favourites are no real surprise, and we're pleased with how it's looking at the moment. With 6 nominations, is Mario Kart DS. This has mainly been attributed to it's superb online play. With five nominations, is Elder Scrolls IV: Oblivion. And I have to say that, this is possibly my favourite nominee. Other top rated games include Buzz, Resident Evil 4, Hitman: Blood Money, Tomb Raider: Legend, Half Life: Episode 1 and Prince Of Persia: The Two Thrones.
There are 16 categories in total. The most interesting, is always the innovation category. The two favourites this year are Buzz, and The Xbox 360 Live Marketplace, both of which are outstanding.
We'll bring you the winners late October, when on the 27th, the winners will be announced. If you want to vote, go
here
.
Labels: Gaming
All across the United States Of America, in libaries and schools, Blogger, MySpace, and a whole host of other socializing, blogging and free expression sites have been banned. This is worrying for blog owners everywhere, as I for one recieve alot of hits coming from the US, even though this blog is aimed at people in the UK. This could significantly reduce the number of hits I receive. The whole blockade was made in response to claims that children are at risk on the internet, but I can assure you, my site has never seen any content that is innapropriate to children as I am one myself. I moderate all comments and can't understand why only certain sites should be blocked. Hopefully they'll just learn how to use
TOR
. It's an easy tool for getting around filters and such. Thought you guys might be interested.
Labels: Blogging
Hello there! My name is Seshi and I am the artist here at UKTToday. Delta is forcing me to write this against my own will because "Everyone should get credit for what they do", or so he says. Personally I'd prefer to stay anonymous, but what the heck! So yeah... yeah. Oh I don't know. That's me then. See you later! You'll probably see my artwork before I see you!
Seshi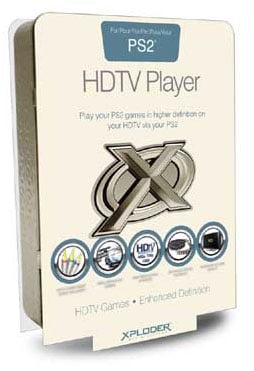 Xploder announced yesterday in a surprise statement that they would be producing HD Upscalers exclusively for the PS2. 'Sounds great!' was my initial reaction, until I saw who was making it. Xploder. Nice. They must have broken thousands of consoles, mashed up so many saved files and games etc. with their dodgy cheat packages. I just wouldn't let them get their products within a mile of my PS2. However, when the Upscaler is released, I will buy it anyway. Why? To see if they can improve their less than impressive reputation and regain some trust among the gaming community. It's in our blog description 'unbiased', so unbiased we shall be. When this comes out for launch on September 1st, we'll let you know what we think as soon as we can.
Whatever the outcome, at least it saves you £600 on a PS3.
Labels: Gaming